THEMATIC TOURS
The Battle of Normandy:
The Battle of Normandy: From June 6th 1944 till August 21st 1944: various tours adapted to your interests and time allowance.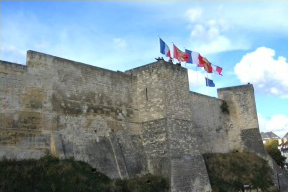 > FOLLOWING IN WILLIAM THE CONQUEROR'S FOOTSTEPS:


Normandy has many places with imposing vestiges of William the Conqueror's influence, from his native town of Falaise to his capital town of Caen, where the massive fortress dominates the town and where you will visit the two beautiful Benedictine monasteries he founded with his wife Mathilda of Flanders.
Then, a short drive to Bayeux to visit the splendid cathedral and the amazing Tapestry which recounts William's conquest of England and the battle of Hastings on October 14th 1066.
(Falaise, Bayeux, Caen, Dives s/mer… the tour can end in Rouen, where William died in 1087.)
> FOLLOWING IN THE IMPRESSIONIST'S FOOTSTEPS:


Birthplace of this new school of impressionist painters thanks to Eugène Boudin, Claude Monet. many towns and picturesque places of Normandy have been immortalized on their canvas. Let's discover Normandy in their footsteps taking one day or more if you want to see everything they have seen…

Giverny(1): Monet's house and gardens.

Rouen(2):
The western façade of the cathedral of Rouen, the fine art museum, the old market square where Joan of Arc was burned at the stake…

The Alabaster coast(3): From Dieppe to Etretat.

Le Havre: Where Monet spent most of his childhood and where he painted the famous "Impression Sunrise".

Honfleur(4): A major town in the history of Impressionism. Boudin museum.

Deauville/Trouville: Famous seaside resorts.
The Touques river valley.
> NORMANDY ABBEYS ROUTE:


The Normandy abbeys route will take you to the most prestigious architectural sites of breathtaking beauties and fascinating history: Norman abbeys, thousand year old foundations… some lie along the great pilgrimage routes and tourist itineraries, while others are located in the green folds of the countryside; some have remained homes to religious communities, whereas others have found a new vocation as museums or cultural centers.
Some are splendid ruins, others still used as Parish churches nowadays. All of them retain their power to attract us and invite us to the heart of Mystery, a voyage in medieval times…
Mont Saint Michel (1)

Abbaye aux Dames- Caen

Abbaye aux hommes- Caen (2)

Jumièges (5)

Saint Wandrille

Saint Georges de Bosherville (4)

Saint Ouen – Rouen

Sainte Trinité of Fécamp (3)

And so many more because if all are a little similar, each is immensely unique!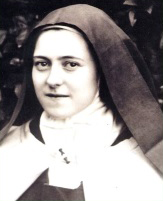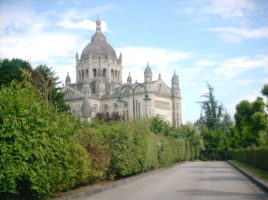 > FOLLOWING IN SAINT TERESA'S FOOTSTEPS:
"The story of a soul": St Theresa of the Child Jesus and the holy face was a Norman saint, let's follow her… ( Alençon, Lisieux, Bayeux…)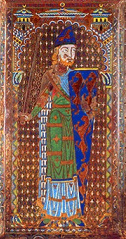 > THE PLANTAGENET HERITAGE:


Le Mans
:
The Plantagenet city
A city of character…
It would be a mistake to associate the city only with its famous "24 Heures". In penetrating to the heart of the Plantagenet city, you are turning the pages of a fascinating history book. Protected by a remarkable 3rd century Roman wall, the ancient city is a little jewel: with cobbled streets that are home to half-timbered houses and Renaissance hotels, it has been used in films such as "Cyrano de Bergerac" and "Le Bossu". Here, you can let yourself dream of days gone by!
The abbey of l'Epau: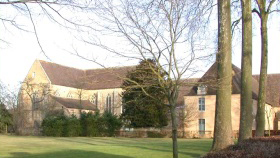 Founded by Queen Berengaria of Navarre in 1229, the abbey of "the Pitié Dieu de l'Epau" is one of the very last Cistercian foundations in France. It is based on an architectural purity favoring meditation. The sovereign "Dame of Le Mans" lies within these walls, close to the city of Le Mans, which she loved so much. Her husband, Richard the Lion Heart is buried in the Royal abbey of Fontevraud.
> CULTURAL WALKING TOUR:


Cultural walking tours in Normandy and Brittany, following walking trails. Another way to discover the region, away from the crowds and the main roads… An average of 2 to 3 hours walking per day, on medium to easy walking trails. Should you be interested in this type of tourism, please contact me for suggestions of itineraries according to the time you wish to spend.
All tours are made "à la carte" according to your wishes and interests whether it is your first discovery of Normandy or a new visit, it has to be memorable!